About Us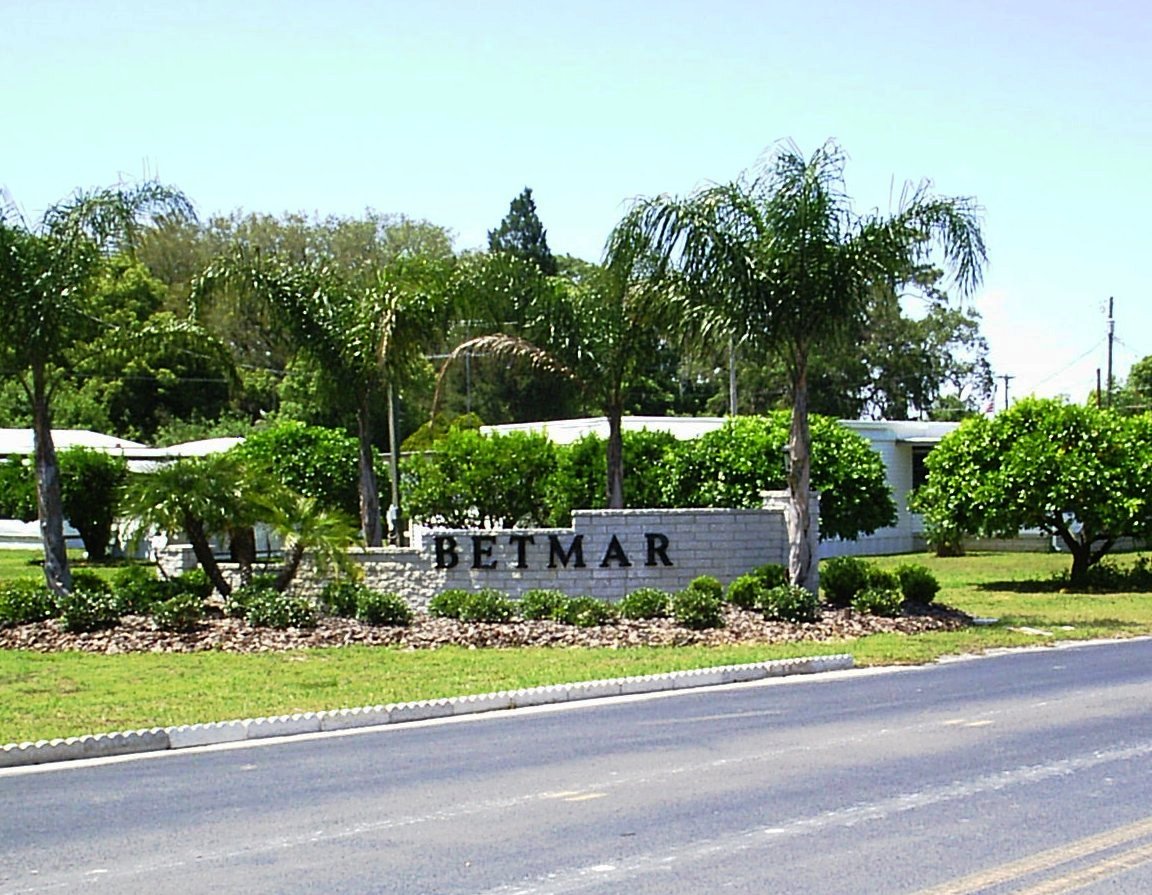 Welcome!
Betmar Acres is a manufactured home community located in Zephyrhills, Florida which consists of over 1,600 homes set among landscaped common areas, community buildings and recreational amenities. It is a community of warm friendliness with many activities and social events.
History
In 1966 Florida boasted had only four mobile home parks. Seizing an opportunity, Mr. M. H. Meengs bought 200 acres of farmland along Highway 54 in Zephyrhills, including a caretaker's home, which is the present Betmar realty office. Mr. Meengs and his partner, George Sprinkle, named the park Betmar for their wives, Betty and Mary, respectively.
Over the years, additional sections were added to the park. Today, we have approximately 440 acres, nearly 1,700 residences, 2 swimming pools, 27 holes of golf, 24 covered shuffleboard courts which host state-wide tournaments, 3 very active clubhouses, tennis and pickleball courts and much more!
Fifty years later, Betmar remains a very special place to call home with a true, family atmosphere among our residents.
Rules & Regulations
 Board of Directors
Betmar's Board consists of a President, Vice President, Secretary, Treasurer and four  Directors, each elected to Chair a specific department (Activities, Communications, Finance and Properties.) These 4 elected Directors then appoint a Vice Chairman for their department.
Location
Located in sunny Zephyrhills, Florida which is 45 minutes northeast of Tampa. Close proximity to all that Tampa, St. Petersburg and Clearwater have to offer, but rural enough to be relaxing and set your own pace. (Click here for link to google map)

45 minutes to gulf beaches.

An hour's drive to major attractions such as Busch Gardens, Disney World, Epcot and other Orlando theme parks. Florida residents are frequently offered discounts to these parks.
 Ownership
Individual lots belong to the homeowner, are not leased or owned as a share of the whole. Betmar has approximately 124 acres of Association-owned common grounds which include our Clubhouses, golf course, swimming pools, tennis and pickelball courts and other facilities.

Our very reasonable annual fees are due to the park's non-profit status and the commitment of many resident volunteers who work tirelessly to contribute to the many activities available to our residents.

Tax advantages due to the park's 55 and over corporate structure.
Activities in the Park
Recreation and sports, such as Golf, Tennis, Shuffleboard, Swimming, Miniature Golf and Darts

Social events, such as monthly dinners and breakfasts, music everywhere and theater and Holiday events.

Clubs that each cater to specific interests, such as Gardening, Chorus, Theater and Dance and many others.

Bingo

And much more. Check out the Clubs and Calendar pages for an overview of club and activity opportunities within the park.
Facility Highlights
Three Community Buildings: These buildings are used for many Betmar activities such as monthly dinners and breakfasts, theater and chorus performances, weekly dances, club meetings, card and other games and much more.

Three 9 Hole Golf Courses: A Golf Club 900+ members strong supports and maintains 3 Executive Golf courses open to members, with guest privileges available for a small fee.

Two Swimming Pools, each with a Therapeutic Whirlpool are available to members of the Aquatic Center Swim club and their guests.

Shuffleboard Courts: Betmar Shuffleboard offers one of the best facilities in central Florida, with 24 courts under cover. The Club hosts local, area and state tournaments on a regular basis

Bocce Ball courts open to all residents.

A Gazebo and a Pavillion available for Club and individual resident functions

A Dog Park for our four-legged residents
HOPA   (the 55 & Older regulations)
HOPA (click here for additional BETMAR HOPA Info)– the Housing for Older Persons Act of 1995 – allows Betmar residents to protect the lifestyle they desire when moving into the community.  The law requires that one person living in each home in the Park must be at least 55 years of age. Betmar is required to verify this information by a conducting a bi-annual verification survey and maintaining up to date records. Currently, a person under the age of 22 is not allowed to reside in Betmar for more than 90 days in any 365-day period and is NOT allowed to attend school or be home-schooled using a Betmar residence as an address of record.
=========================================================================================