Library
_________________________________________________________________________________
Our Season Runs                      From:                To:             Year Round? Yes
Meeting Schedule: 
The Library volunteer meeting is held on the second Thursday of each month in the library at 9:00 AM. The Library hours are 10:00 AM to 3:00 PM Monday to Friday from November to April. During the summer the library is open from 10:00 to Noon Monday to Friday.
Cost  of Membership (Dues):   There are no dues.
Contact Information:         Ann Koester at 813-779-7111
Our Mission/Purpose: 
The mission of the Library is to provide recreational reading/listening/viewing materials to all of our residents. Our collection currently includes books, audio book and DVDs. Residents only need to register for a library card to borrow materials. There is no charge to join.
Activities/Special Events:   We are a service oriented group. We hold monthly book sales in conjunction with the Betmar Breakfasts. We also maintain a selection of "books for sale" in the library.
Other Information:   

We are very grateful to accept donations for inclusion in our collection or to offered for sale. We also maintain a "Jig Saw" puzzle collection.
Club Officers:   
President                                  Ann Koester
Vice President                         Toni Nelson
Secretary                                  Barbara Withers
Treasurer                                 Marcia Hares
Bulletin Correspondent        Ronnie Delano Ellis
FEBRUARY 2019
The Betmar Library is open to all Betmar residents and is located at 5034 Betmar Drive. If you enter the park from the "old" entrance off State Road 54 (the one that boldly displays BETMAR) you will find the library on the right before you come to the large park map. Years ago this building was the location of the main administrative office of our park. It now houses our own bustling library. We are open during "winter" hours from 10:00 a.m. to 3:00 p.m. Monday through Friday. During our warmer months, we are open Monday to Friday from 10:00 to 12:00. If you need to drop off borrowed books, DVDs, etc. during times outside of our scheduled hours, there is a drop off box that can be used 24/7.
We have over 10,000 items in our collection with many new releases available. We loan books, DVDs, audiobooks and large print books. Our collection has mysteries, novels, inspirational, westerns, biographies, autobiographies, hundreds of DVDs including movie and tv series, children's DVDs and books, and we have a huge collection of puzzles. You may borrow most books for 30 days, new releases for 2 weeks, DVDs for a week and all of our puzzles you may borrow until you finish them!
Here is a visual panorama of our library and some of our volunteers. If you have never visited our library, we hope this encourages you to make a visit. Getting a library card is easy and available to all residents and renters free of charge.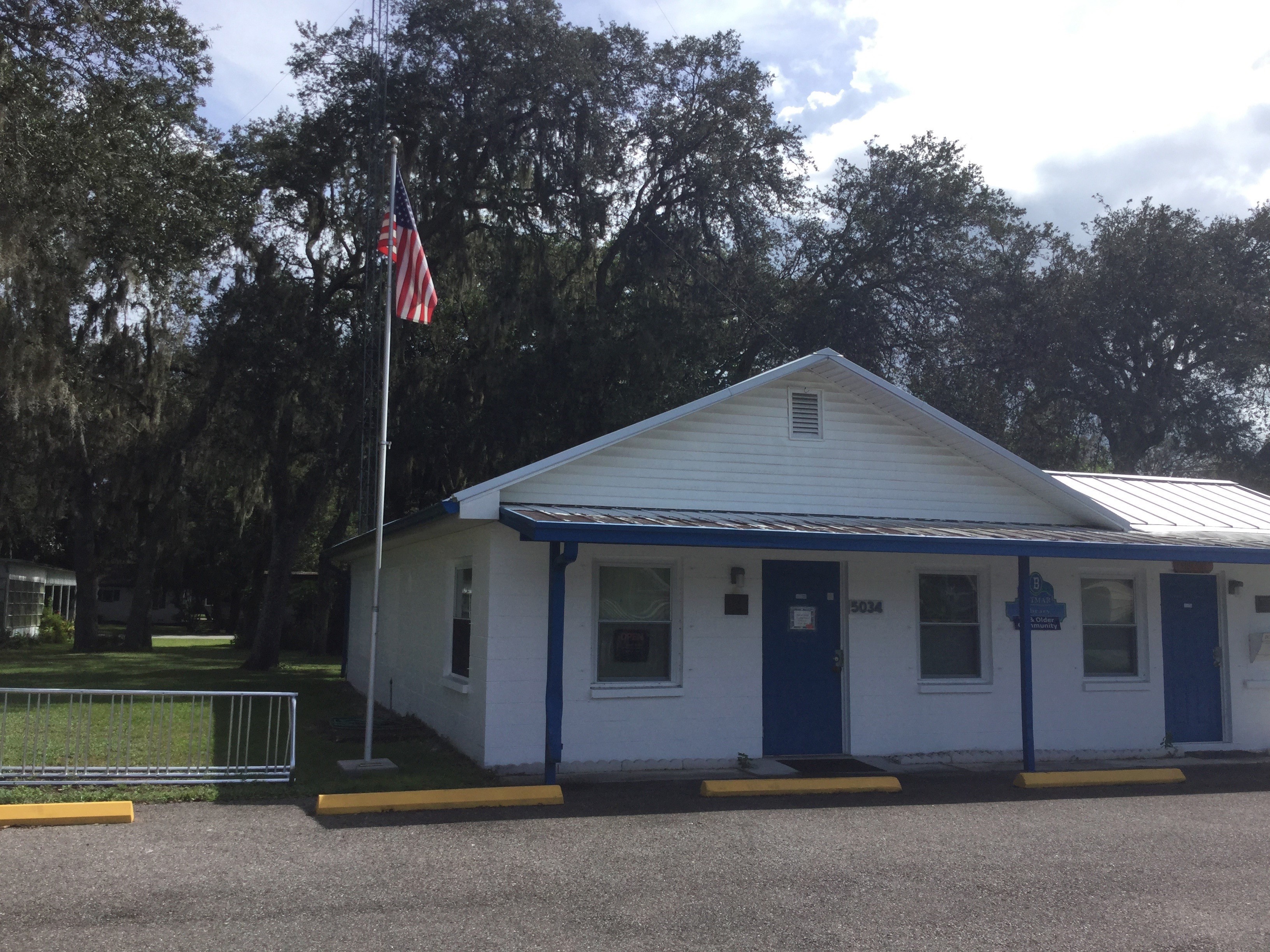 Front of Betmar Library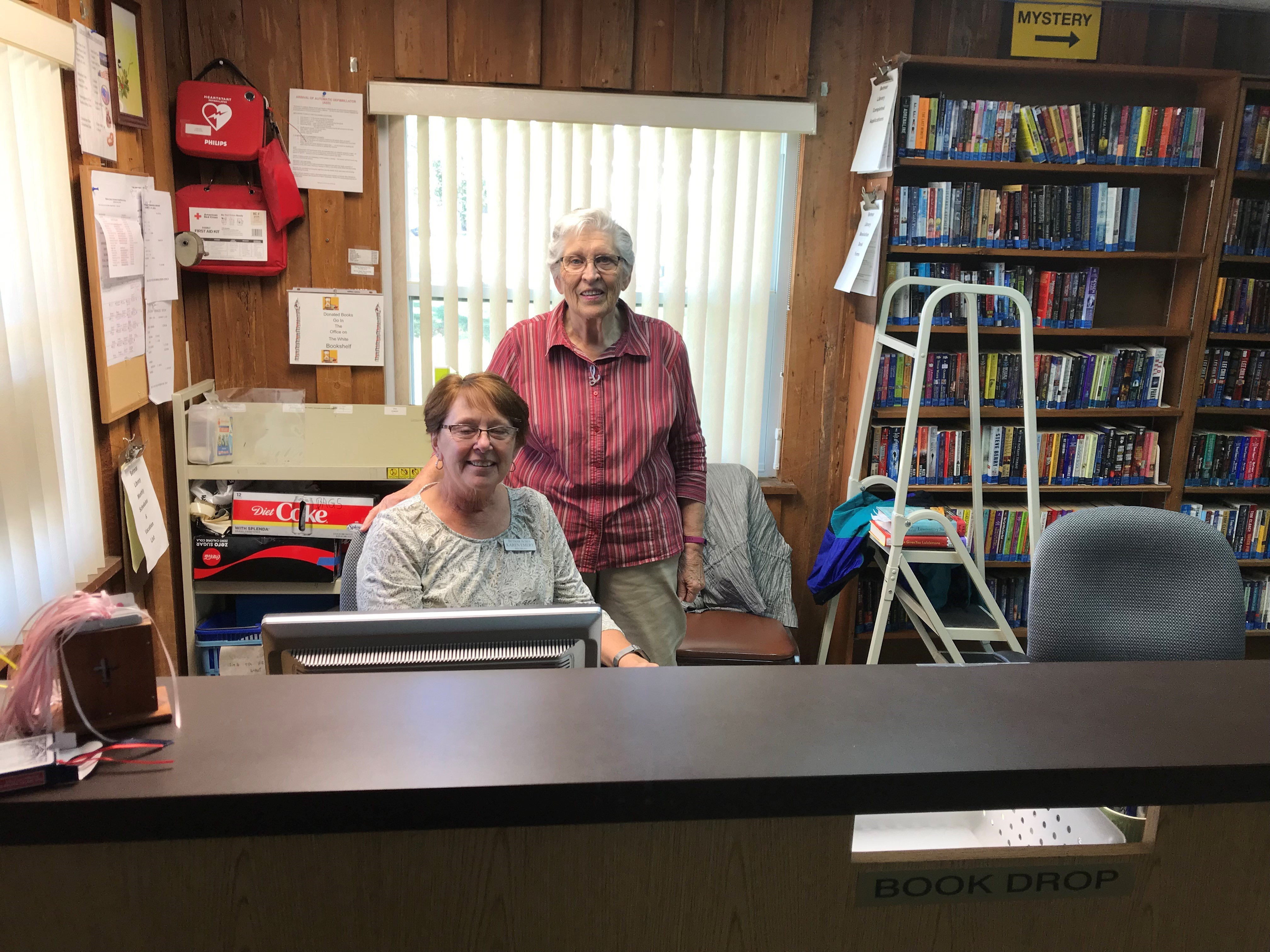 When you enter, you will be greeted by at least two volunteers. Working on this day were Karen Emery and Laura Webster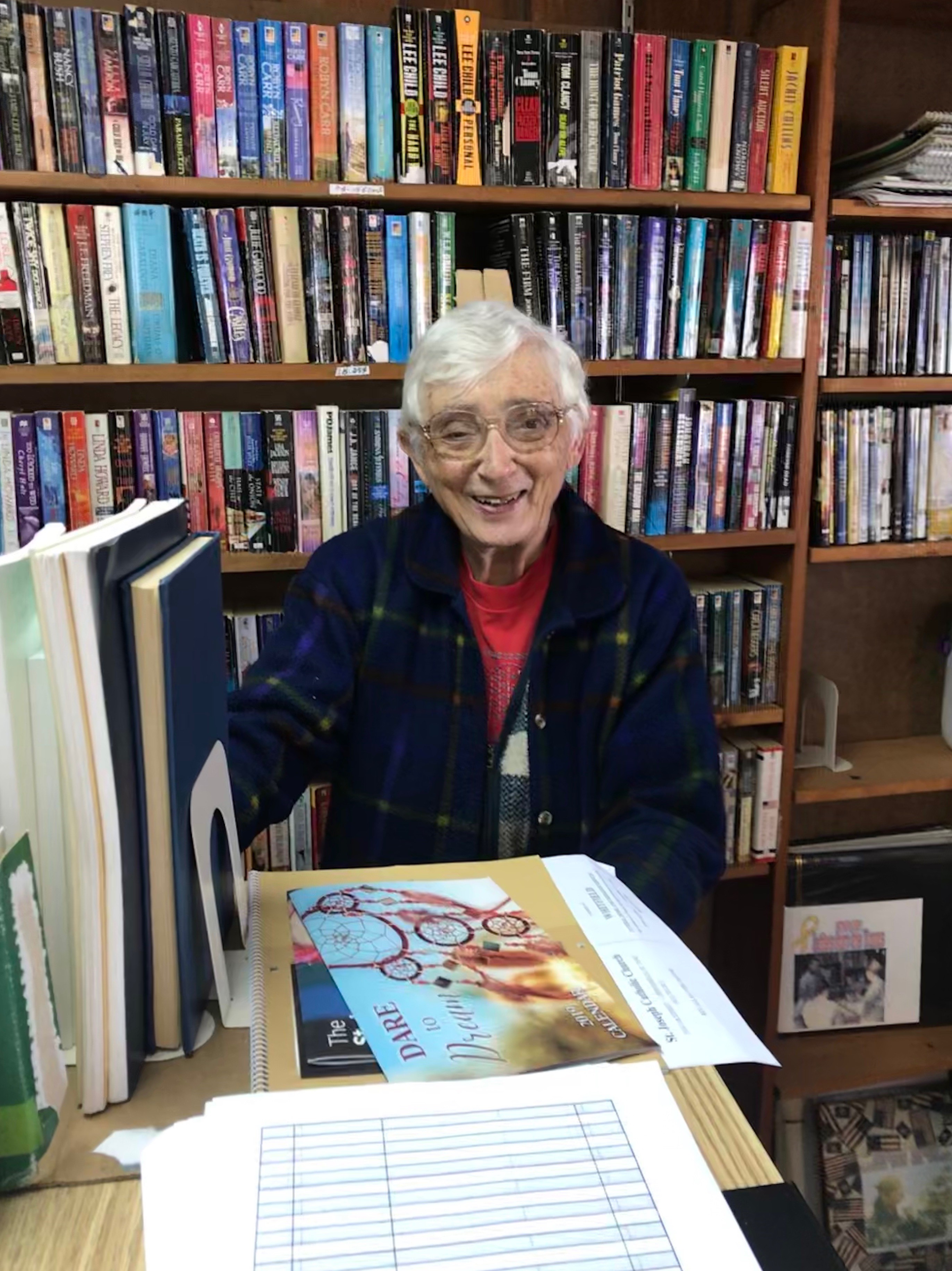 Carol Tarvin (volunteer) reviews new releases and stands in front our our collection of books for sale. Most of the books "for sale" are duplicates of books available for borrowing. Paperbacks are available for a donation of $ .25, softcovers $ .50, hardcovers $1.00. During the "winter months" Book Sales are conducted the first Saturday of the month in the morning, however you may make a selection for a donation at anytime during our open hours.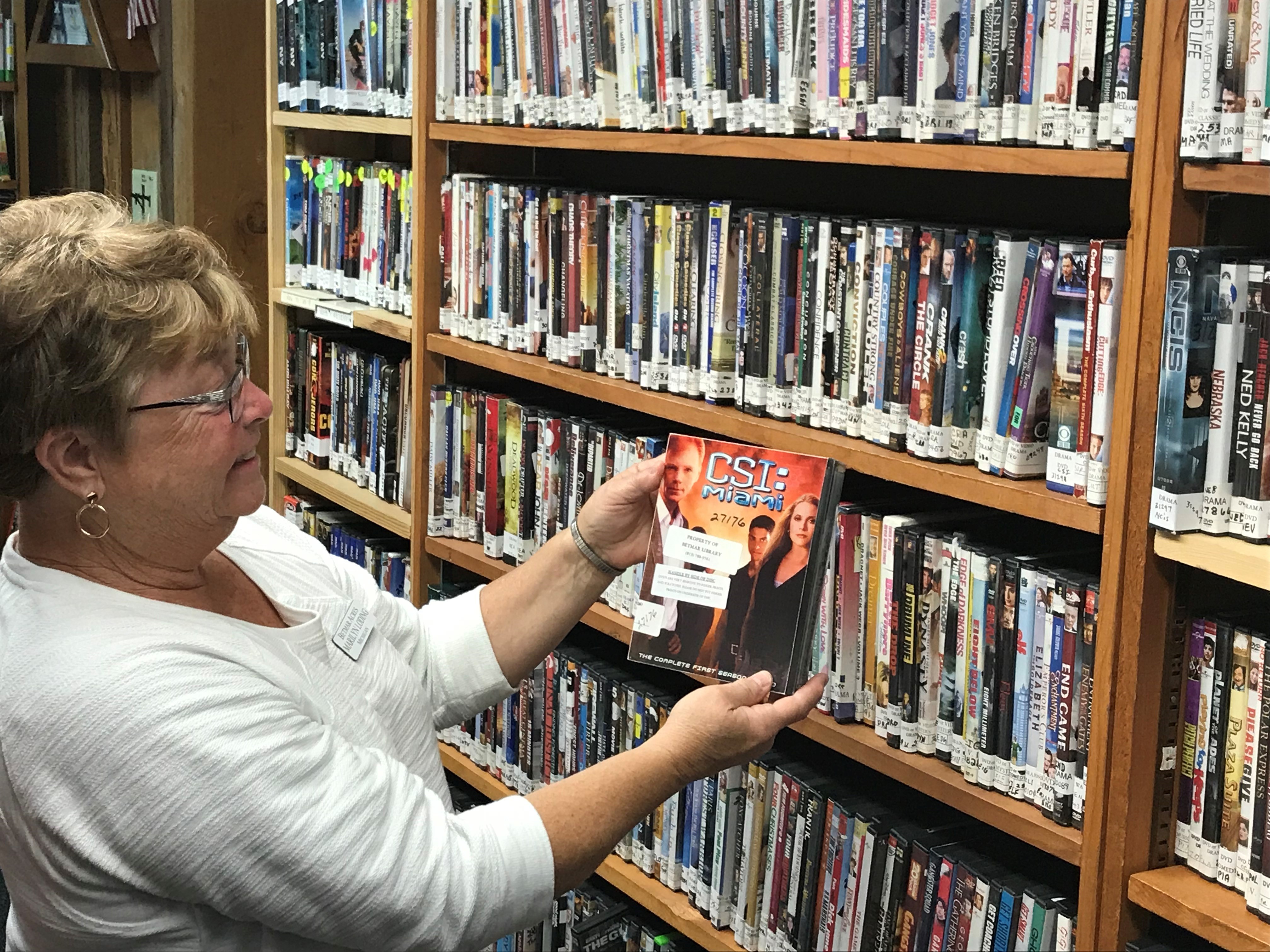 Marilyn Loding (volunteer) files away a DVD tv series into our collection of hundreds of DVDs.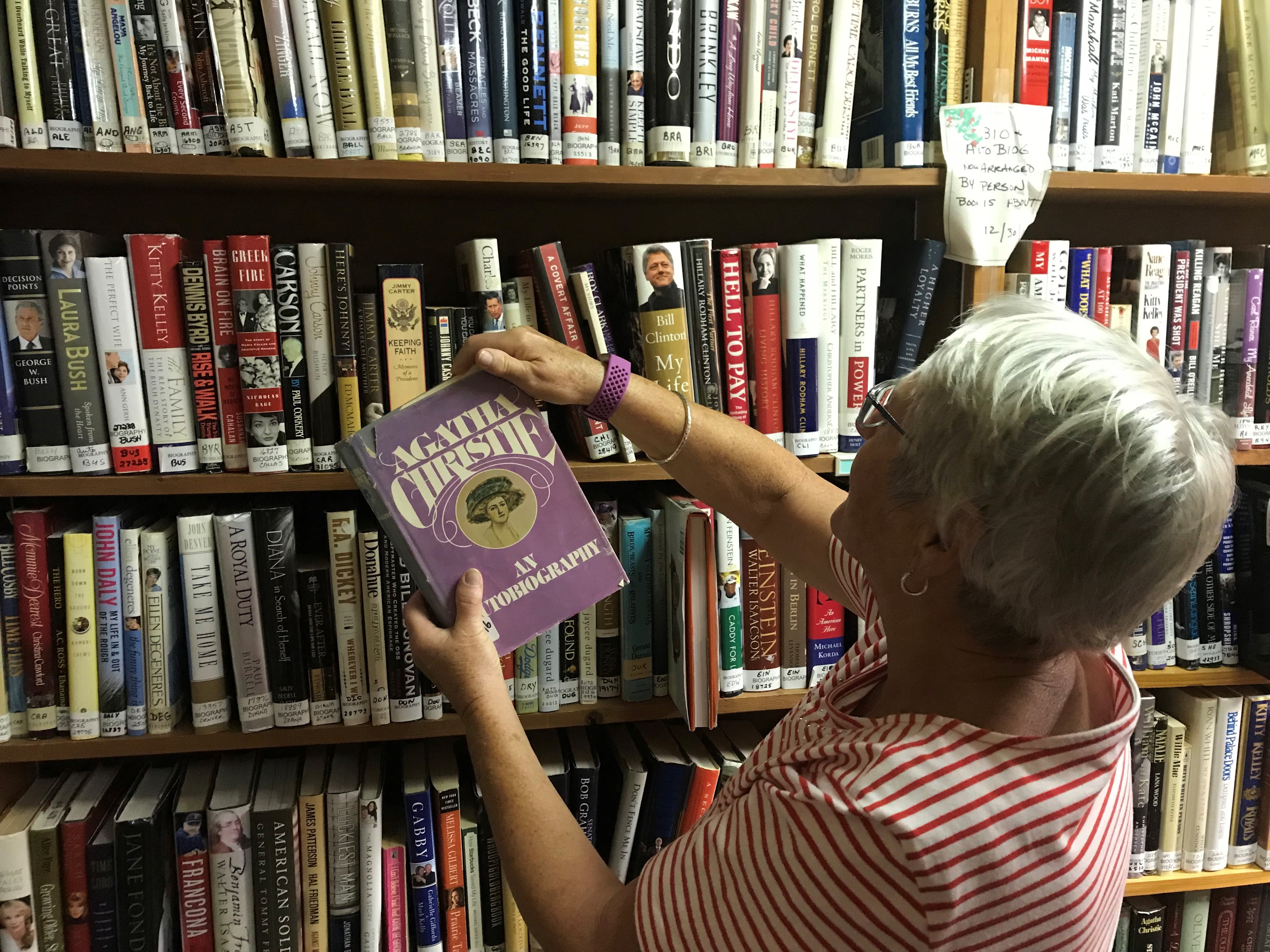 Laraine Roberts (volunteer) reviews the order of our biographies and autobiographies.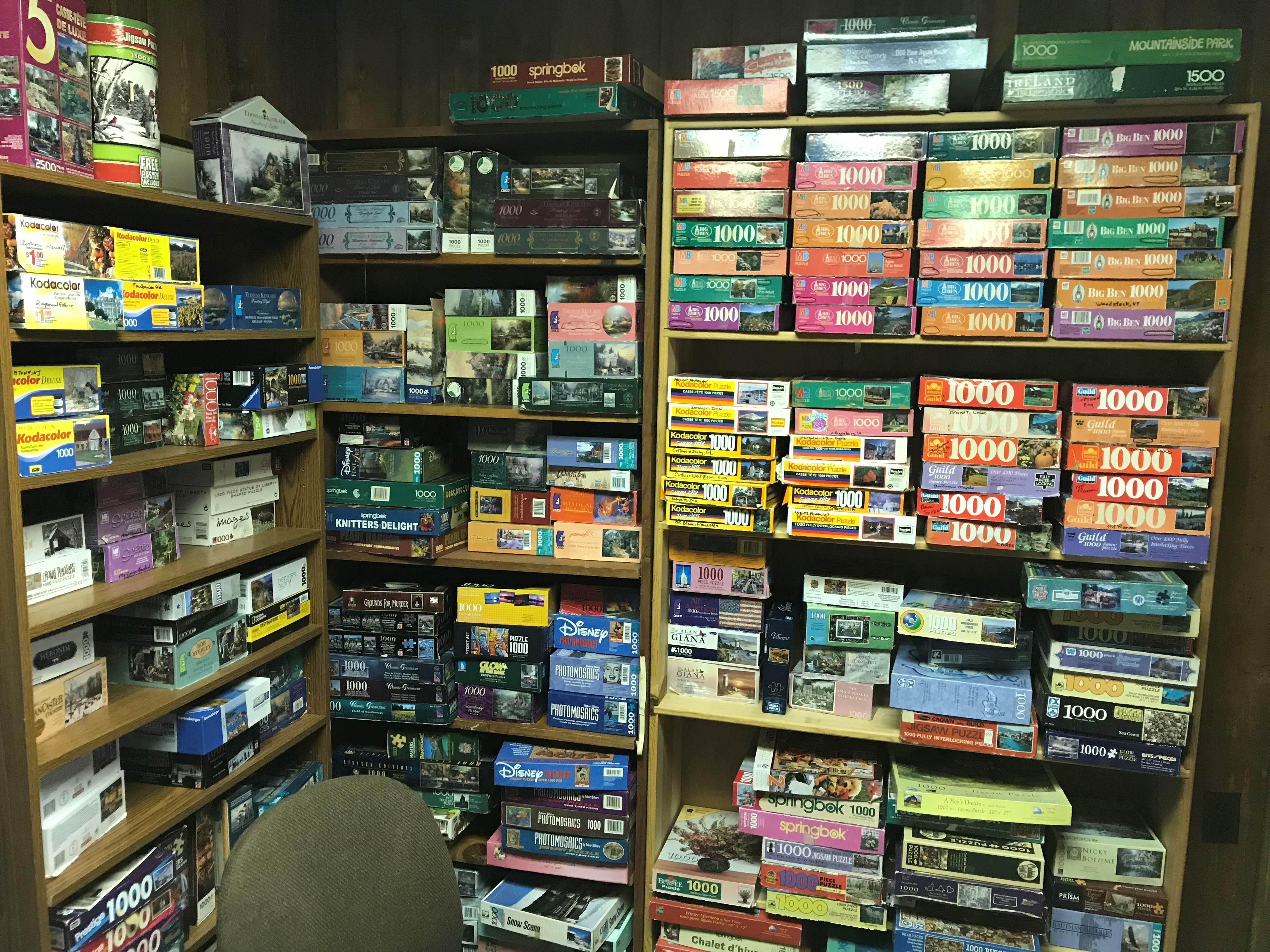 One of our walls of puzzles! Borrowing puzzles is on an honor system and you may keep the puzzle until you have completed it!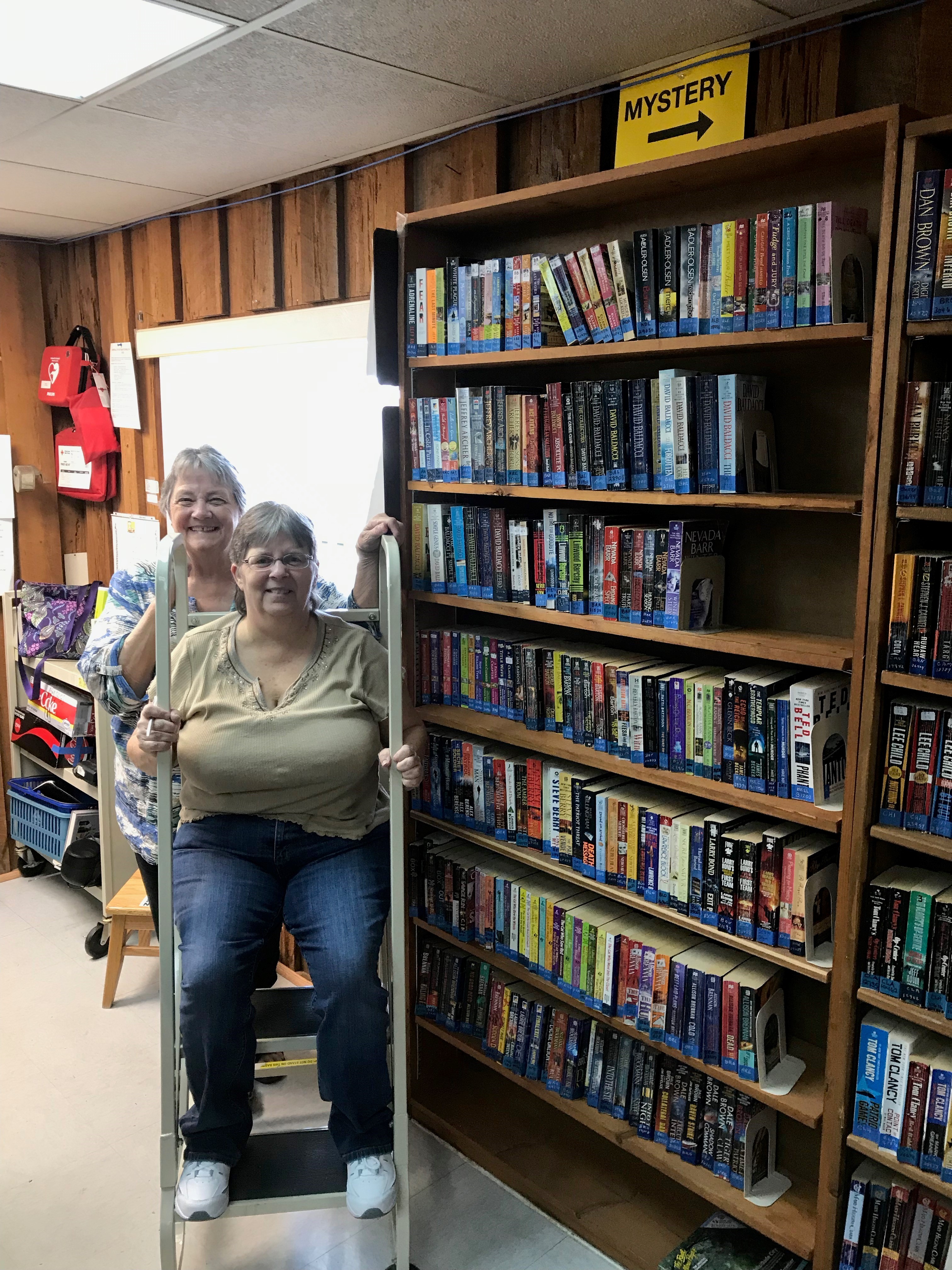 Toni Nelson (in the front), Betmar Library President (effective April 2019), and Colleen King (in the rear), Betmar Library Secretary (effective April 2019) posing beside our MYSTERY section.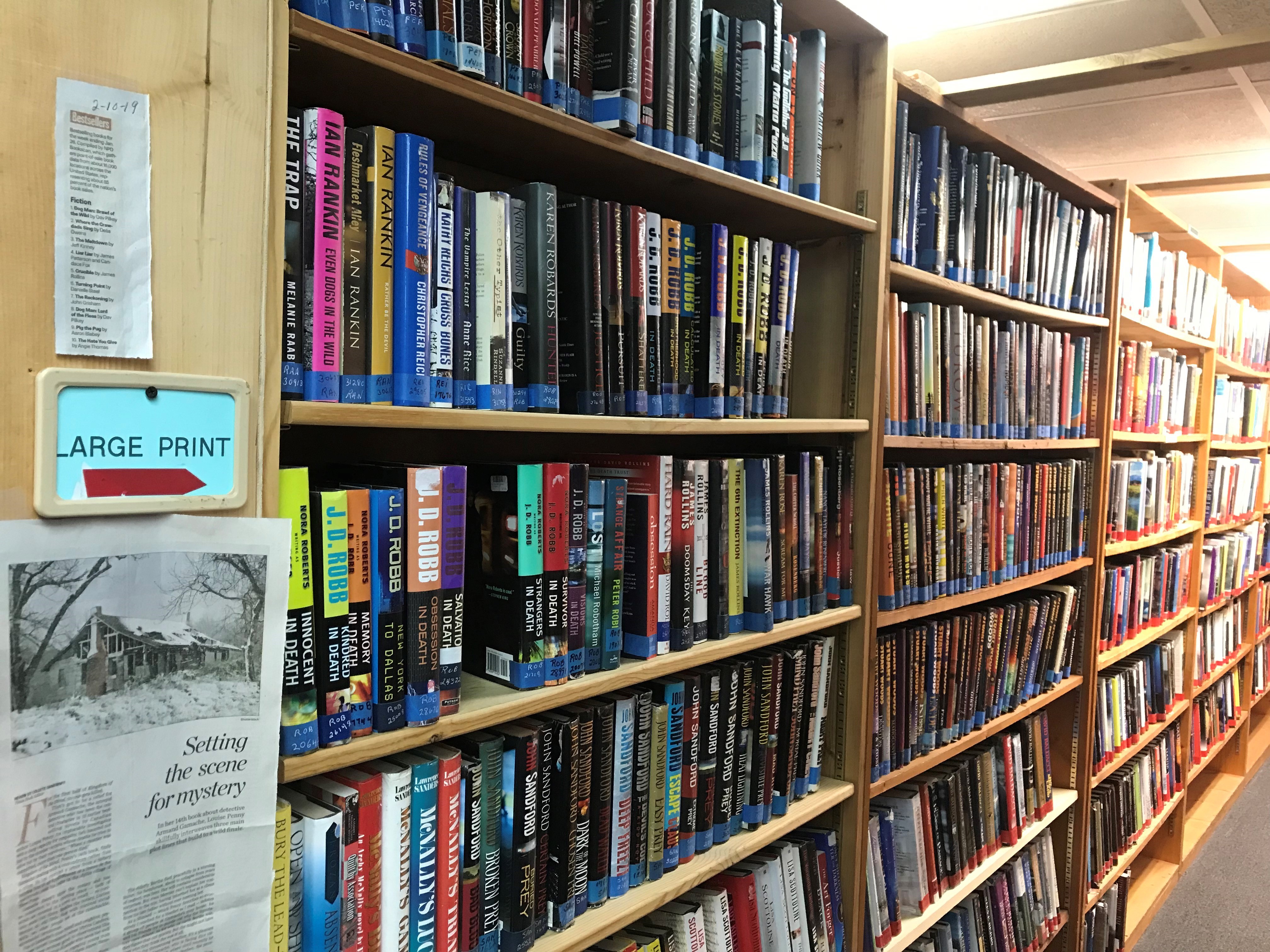 As we age, larger print is much more useful for some.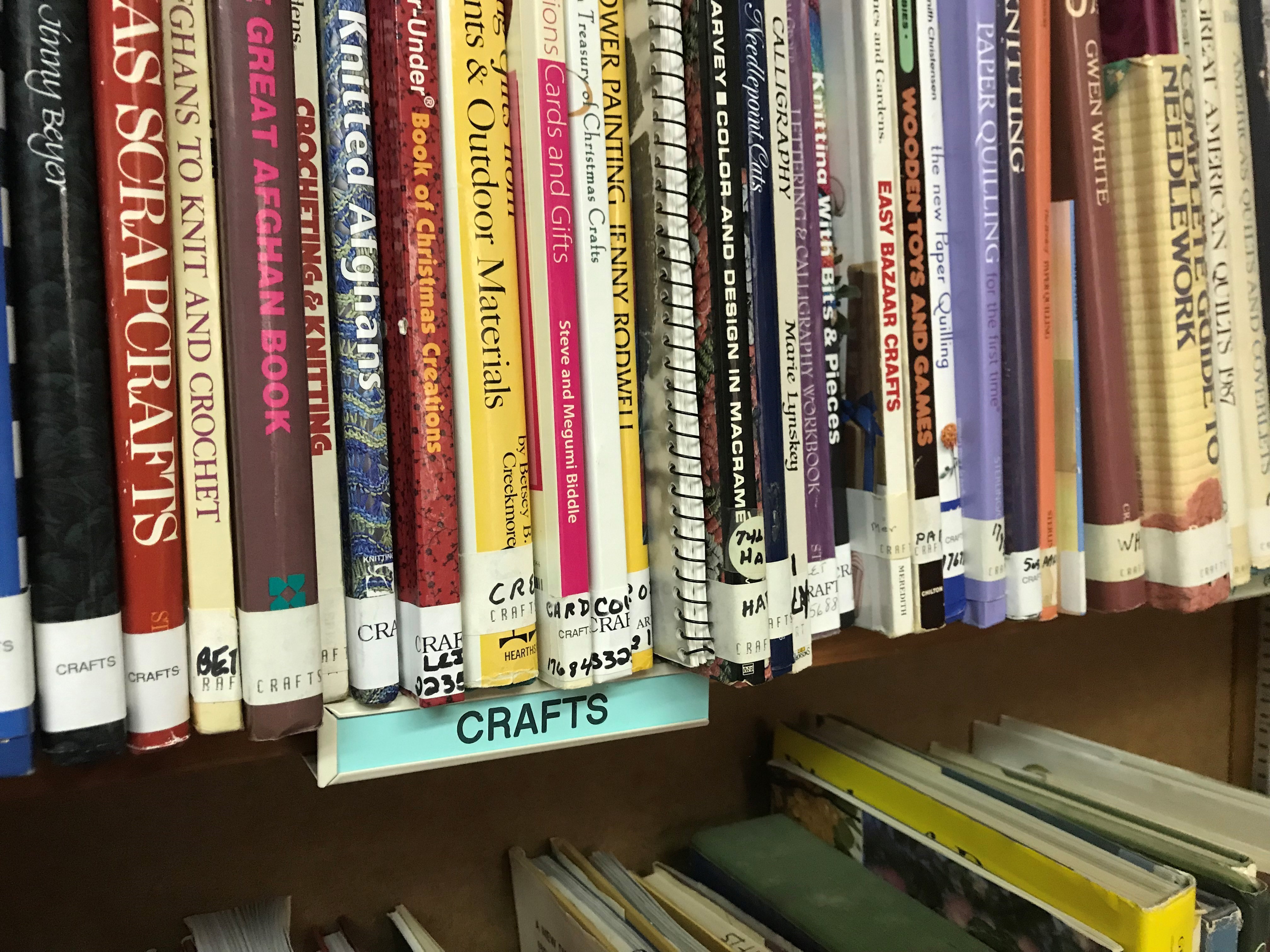 Craft Section.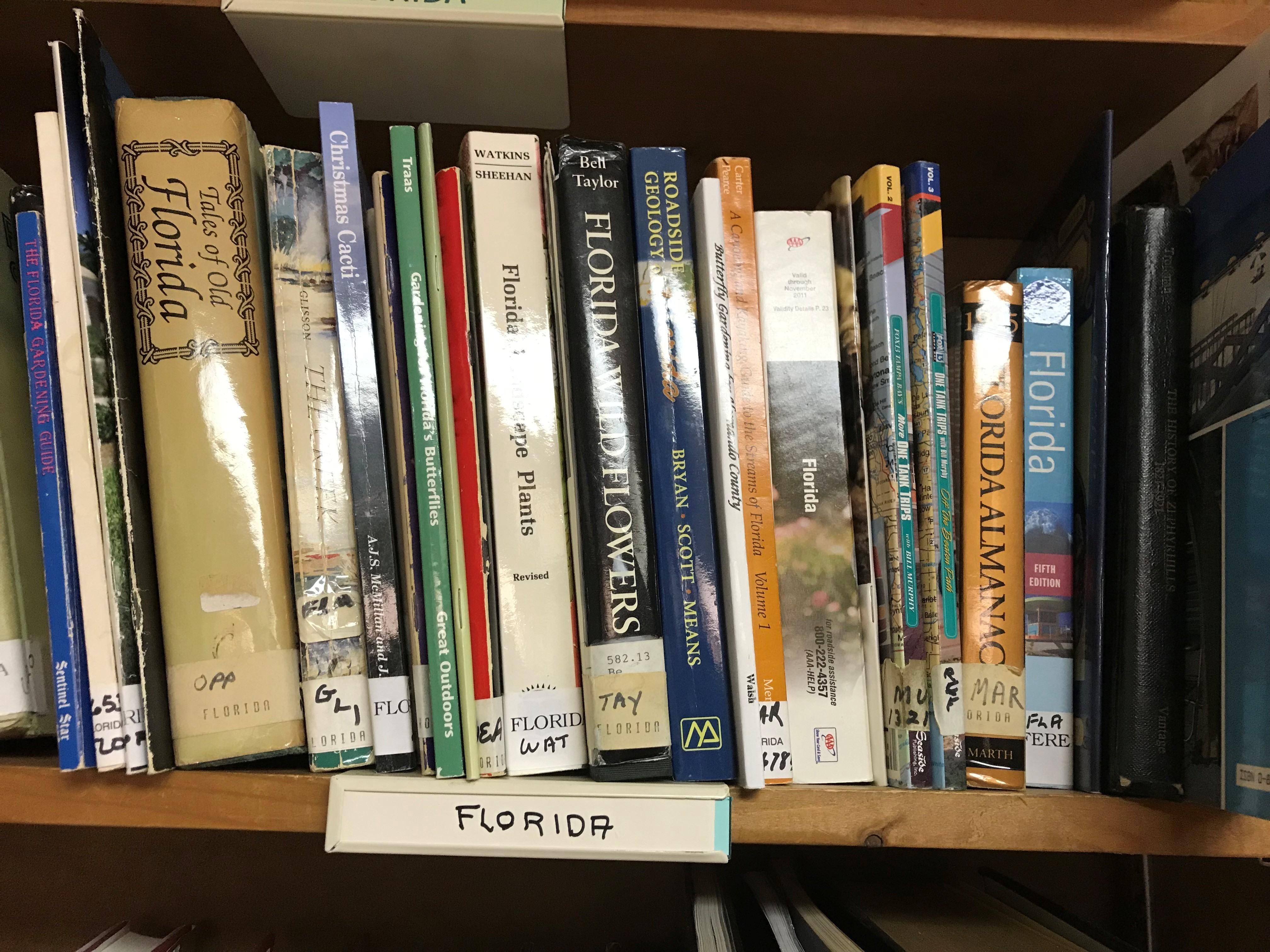 Section on our home state or home- away-from-home state!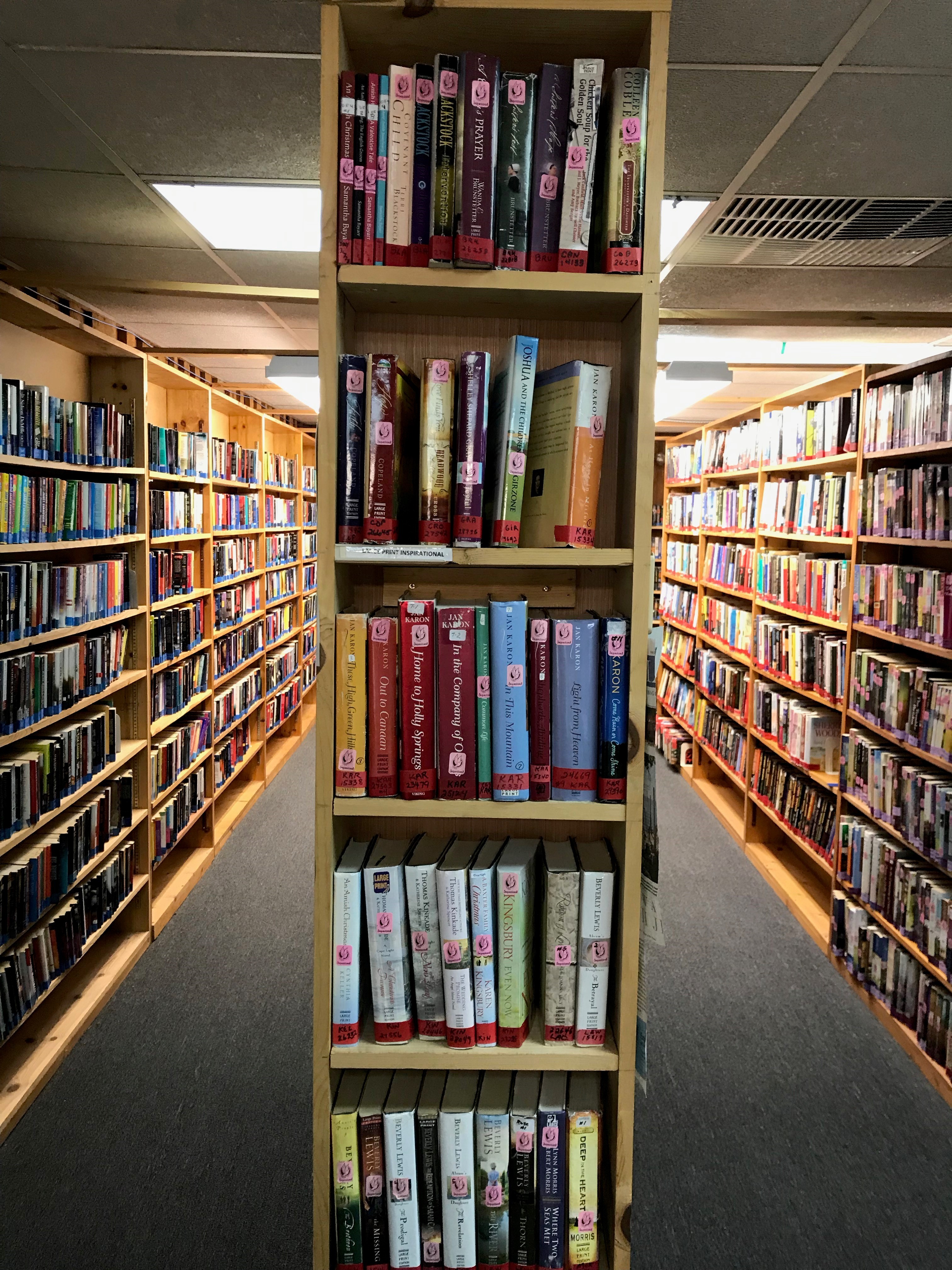 There is a color coded system for cataloguing our collection. Books with pink labels are "inspirational", red labels are "large print", etc.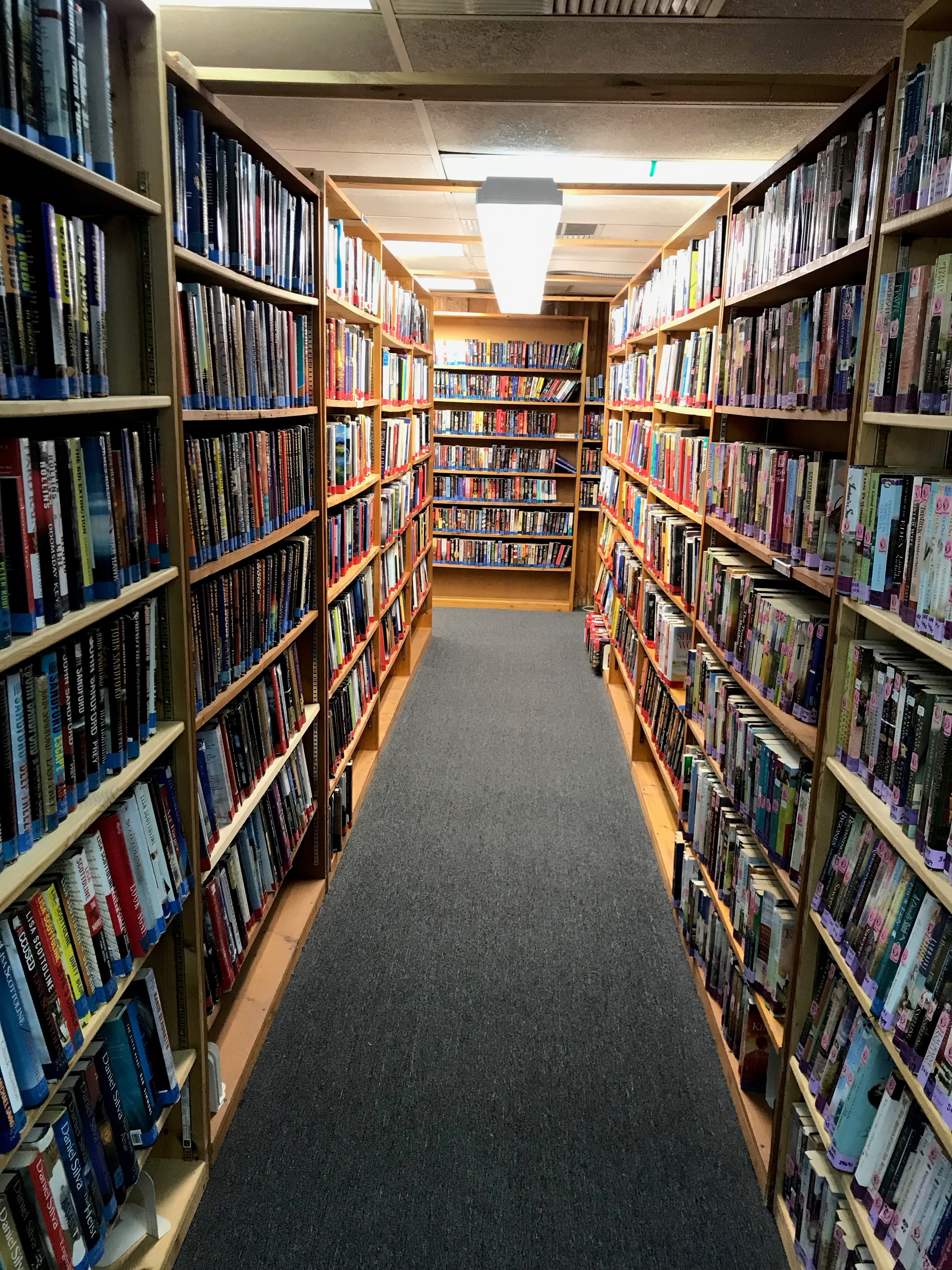 If you are having trouble locating a book, just ask one of our volunteers and they will be happy to locate it for you! If you have no specific book in mind, just come in and browse.