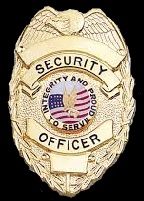 Click on the article of your choice below ........
NOTE:  the "+" at the right end of the selections will turn to a "-" while reading.   Simply press the "-" to collapse the article and select another.
Please see the below handbill we need to get the word out to Betmar residents before they get taken.     This guy might have been trained by Joe Reed since he uses the same tactics, termites in the palm trees and ready to cut them down immediately to save them termite cost to their homes.  What a guy.  This  guy is younger and drives a red/maroon pickup.  No actual guess on his age.  May have a woman partner who is skinny.  Sorry, this is the best we have other than this image of his flyer.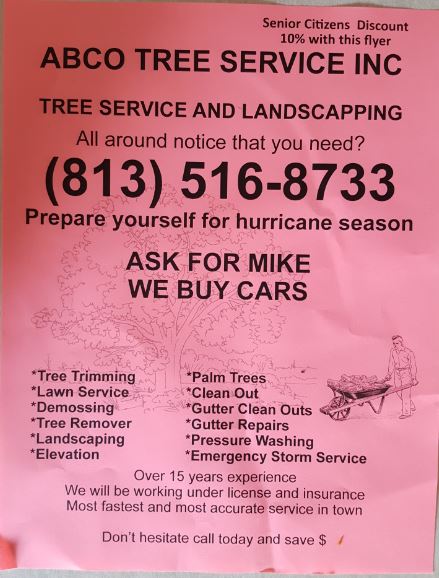 GOLF CART BATTERY CHARGING……A Note of Safety and Caution
Golf Cart Battery Charging……A Note of Safety and Caution
Tuesday morning police cars, EMT, and fire trucks all converged on a house here in Betmar.  It turned out that a smoke alarm had awaken the occupants and they called for help (smart).  It was later rumored that carbon monoxide poisoning was a possible culprit.  Betmar Security checked into this, and was informed by the Fire Department that the problem was stemming from batteries on a golf cart that were being over charged.  Lead acid batteries that are over charged do not emit carbon monoxide, but they do emit Hydrogen and or sulfur dioxide….Just as dangerous and perhaps more so because...well…they explode.  
Betmar Security engaged in a discussion with an ex fireman on how a smoke alarm would detect Hydrogen…...his answer was simply that smoke alarms are higher tech than ever and they may just go off when any foreign odor presents itself.  (Although you should never depend on them as a substitute for a device specifically designed for that purpose….such as a carbon monoxide detector.)
The take away from this is only charge golf cart batteries outside or in a room with door and/ or windows open.  
How can this harm you??  Well here is a very general explanation.  Gases like carbon monoxide, hydrogen, helium, and several others; replace the oxygen in your lungs.  This gas in turn replaces the oxygen in your blood.  The results are unpleasant,  and quite often…fatal.  
JOE REED IS BACK IN THE PARK
Joe Reed is back in the park.  He is the man who talks people into cutting down live trees by telling them that the tree has termites.  He will take you to look at the tree and show you holes where the termites are in your tree.  He sometimes shows you a hand with some white (I think rice or ant eggs) what he calls termite eggs.  Termites do not live in live trees.  Termites do not make holes in trees.  Termites live in the ground and eat dead wood or paper.  If he comes to your house call the Sheriff and Security.  This week he took a lady for over one thousand dollars he cut down two live trees.  About three years ago he took at least 10,000 dollars from our residents.
Another scam Tuesday when one of our residents returned home she had a message left on her answering machine.  It said that if didn't call 1-864 302 3256 she would be arrested and put in jail.  I checked this out with the Sheriff's office and they said that this was an overseas scam.  They took the number and added it to their list, but said there wasn't anything they could do.
Scam--people in Pasco County jail are calling people in the park.  The call starts by telling you that it is coming from and inmate in the jail and that if you do not want the call to hang up.  HANG UP.
Thanks,
Bill
DAYTIME SECURITY NEWS AND TIPS
DAYTIME SECURITY NEWS AND TIPS
As we get into the full winter season , we experience an uptick in crime in Betmar .  I have written previously about solicitation in the park and that full article can now be viewed at our new Betmar website Betmar.org.  If we continue to refuse to speak with open solicitors, and report these incidents to Daytime Security , we can continue to decrease the numbers of people injured by these solicitors.  Please go to the website to review the article and refresh your memory as to how to proceed.  Remember- open solicitation is a crime in Florida and the sheriff's department will arrest and prosecute offenders.
Also as  a reminder to everyone that we must continue to be diligent in locking our cars and houses .   Most crime in Betmar are crimes of opportunity- and an unlocked house or vehicle is a huge opportunity for thieves.
There has been a significant increase in stolen golf carts and bicycles  this past month.  All carts and bicycles have a serial number or VIN number on them but owners either do not keep or have lost the documentation showing these numbers.  Without these numbers  it is practically impossible to identify a stolen cart or bike by either your security team or the sheriff's department.  A golf cart has it's serial number, VIN number and model number under the seat by the batteries or on the front dash .  Write them all down and place them in a secure spot in your house.  It may be the one most important thing you can do to increase your chances of catching a crook and  getting your cart back. Please never leave your keys or valuables in your golf cart.
Carts and bikes can be registered with the front office .  They keep a list of your  cart and bike identification and serial numbers and you can receive stickers for your cart to further identify them.  It is a great way to have your information available in the event of a theft .
If you belong to the golf course , each year the registration for trail fees carries with it requests for the VIN number and type of each golf cart.  In the event your cart is stolen that form can assist the Sheriff's office  in trying to find your cart and identify it sufficiently to have it returned to you if it is found.
We are ALWAYS looking for more volunteers.  We have a great group of volunteers in this park working security but to keep a force in place 16 hours a day seven days a week takes a significant  amount of volunteers .  The front office has application forms if you would like to volunteer.  Additionally we keep forms in the security cart and if you would like to volunteer - just flag us down and we will give you a form which you can then fill out and return to the front office.  We will contact you and give you some training and you are part of the team.  It is a simple and painless process.
SOLICITATION IS NOT A VICTIMLESS CRIME!!
SECURITY NEWS
SOLICITATION IS NOT A VICTIMLESS CRIME!!
 One of the major problems facing residents and daytime security is the issue of solicitation by outside vendors, repairmen and even major telephone, cable and satellite companies.
Solicitation is not only against the rules of the Betmar Community but it is also against the law. (Florida Statutes Chapter 74 (Trespass) Sections 810.08, 810.09,) If complaints are made to the Pasco Sheriff's Office regarding soliciting vendors they will respond and will issue citations against the offending parties. Just recently after a Betmar resident made a complaint to the sheriff's office and followed it up with a call to daytime security who also followed up the call, a soliciting vendor was tracked down by the sheriff's department and was issued a citation.  There IS enforcement. 
Many people may consider solicitation to be a victimless and relatively harmless situation.  Nothing can be further from the truth.  I am sure many of you have heard of people who have paid to have roof repairs, "diseased" trees trimmed or cut down, sidewalks or driveways to be painted or repaired. Very often these are not legitimate calls and often the owner of the property is talked into paying a large down payment or deposit on the work and the soliciting vendor either does no work shoddy work or never returns to complete the job.  Even for a legitimate vendor you should absolutely NEVER pay in advance.
Often the solicitor will entice you with a great rate or an inexpensive fix.  This of course is all verbal or they find some other reason to charge more. They get the job half-finished and then tell you they can't finish it for the money they were going to charge you.  The old saying is that if it sounds too good to be true- it probably is.        Even the large telecommunication companies hire people to come out and try to sell a new telephone service or a better satellite or cable service.  The sales people are paid a commission based upon what they can sell.  In most cases they are more concerned with selling the product than telling the truth.
Many people have a difficult time saying no to these solicitations.  Often, they are talked into doing something they really did not want to do.  The solicitors can be very brash, very intimidating and often very convincing.
The absolute best way to discourage these people when you are faced with the situation is to simply say "Solicitation is against the law" and firmly shut your door.  Do NOT engage them in conversation.  Do NOT let them into your house.  If they persist tell them to get off your property.  Close the door and call the sheriff's office. If you can get a license plate or determine a business name on a vehicle it may make it easier for the sheriff's office to prosecute but DO NOT attempt to get this information by talking to the vendor.  Instead call the sheriff's office and then call your daytime security personnel immediately.  We will do our absolute best to handle the situation for you and to get the solicitor off your property but we can't do that if you have already started a transaction with them.
And please don't forget that the resident who is approached by a solicitor is not the only person injured.  Every time that someone hires a solicitor it opens the door for that solicitor to continue to work Betmar with additional scams.  We become known as "easy"
The more we discourage these activities and the more vendors learn that we will not encourage this type of activity the less it will occur.  The only reason they come is because they see us as "easy marks".   If we can operate as a united community it will very soon discourage them from coming to our park.